From our founding as Rock Financial in 1985, moving into some of the Midwest's great cities, growing to become America's largest mortgage lender, winning some of the lending industry's most prestigious awards, and launching a powerful platform to simplify life's complex moments: our story is only just beginning.
1980s
June 1985 – Dan Gilbert founded Rock Financial, which would become known as Rocket Mortgage, in 1985. The company was initially founded as a mortgage broker.
1988 – Rock Financial took the steps to become a mortgage lender. Rocket Mortgage is now one of the largest mortgage lenders in America.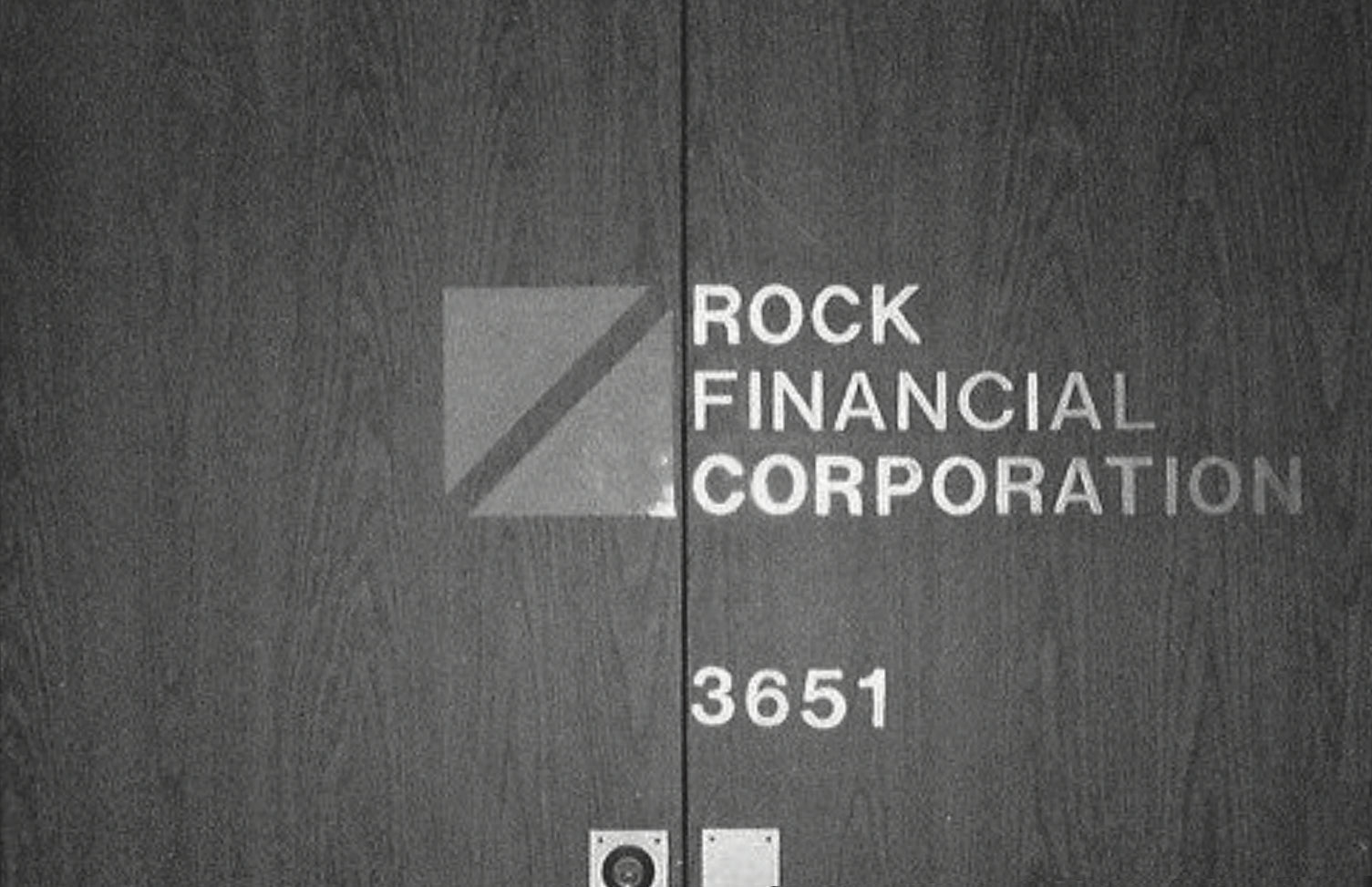 1993
The company achieved $1 billion in annual closed loan volume for the first time.
In 2022, Rocket Mortgage closed $133 billion in mortgage volume.
1996
Mortgage in a Box, the precursor to today's centralized online lending model, was released. This revolutionary mortgage application explained the process in an easy-to-understand way and after completing the form, clients would mail them back to Rock Financial – the same way that clicking the submit button on Rocket Mortgage sends the application to be reviewed today.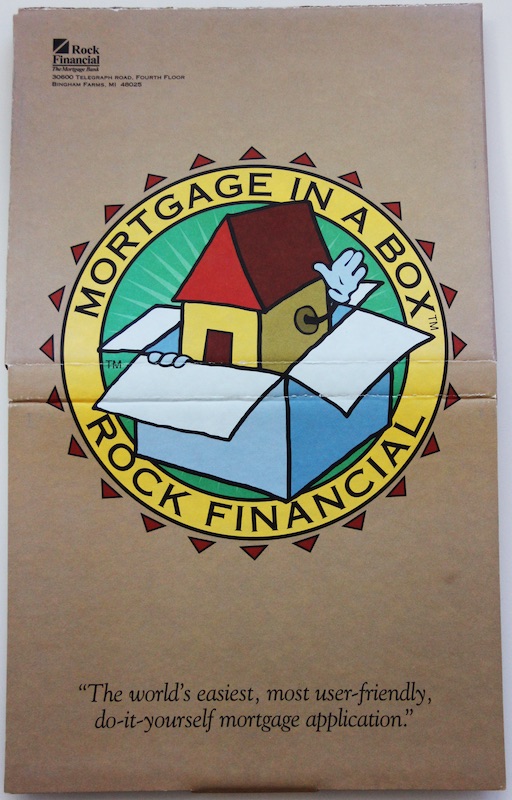 March 1998
Dan Gilbert wrote an email to the company committing all its resources to moving the mortgage process online. His vision was decades ahead of its time. Most of the internet companies of that era focused on problems like search, advertising or basic e-commerce. Dan saw things differently.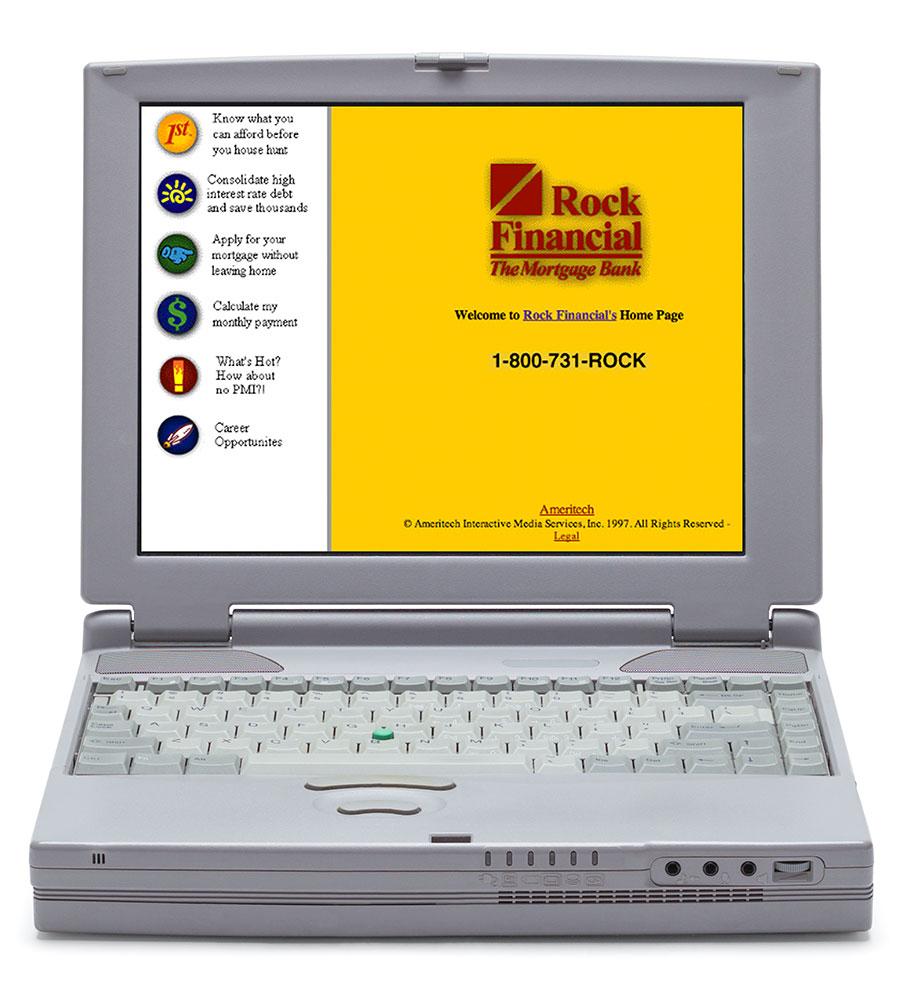 May 1998
Dan Gilbert took Rock Financial public, launching a successful IPO on the Nasdaq market under the symbol "RCCK."
January 1999
As the branch-based lender's first step online, the company launched RockLoans.com. This quickly positioned it as one of the fastest growing online retail mortgage lenders on the internet.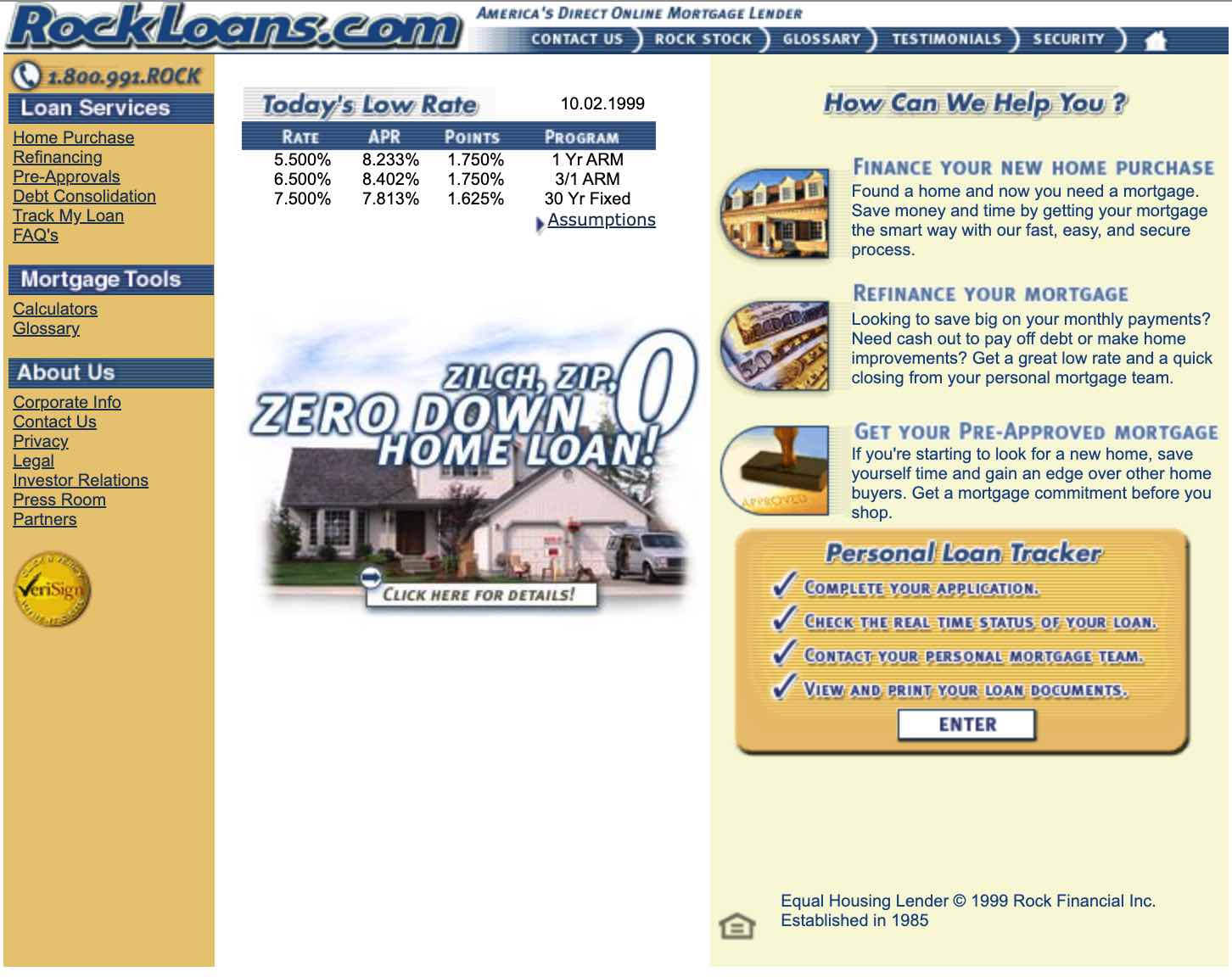 December 1999
Seeing the possibilities of this mortgage lender rooted in technology, Intuit Inc. (creators of market-leading software TurboTax and QuickBooks) purchased Rock Financial. The company was renamed Quicken Loans.
January 2002
The company introduced the first fully electronic mortgage application process, enabling consumers to review and sign documents online – marking the next major step in the company's tech heritage.
August 2002
Placed on Fortune's prestigious "100 Best Companies to Work For" list for the first time. As of April 2021, the company has ranked in the top one-third of the list for 18 consecutive years.
December 2003
Dan Gilbert led a small group of private investors in purchasing Quicken Loans Inc. back from Intuit. The company retained all Quicken Loans branding and marketing initiatives.
August 2004
What would later become the preeminent mortgage website, the company launched QuickenLoans.com for the first time. The newly redesigned site gave consumers more tools and greater functionality to explore their home loan options, calculate payments and apply for a mortgage online.
2008 & 2009
The company was able to grow its market share significantly during the turmoil in the mortgage industry, due in large part to the company's refusal to originate sub-prime mortgages in the time leading up 'The Great Recession.'
May 2010
Rocket Pro TPO, founded as Quicken Loans Mortgage Services (QLMS) — now known as Rocket Pro TPO — was created to serve the needs of mortgage brokers, community banks and credit unions. It is currently one of the largest lending partners to mortgage brokers, providing them technology to best serve their clients and the resources to grow their businesses.
August 2010
Quicken Loans moved its headquarters to downtown Detroit, kicking off more than a decade of investment in the city. Currently, Rocket Companies is the largest employer in the city of Detroit.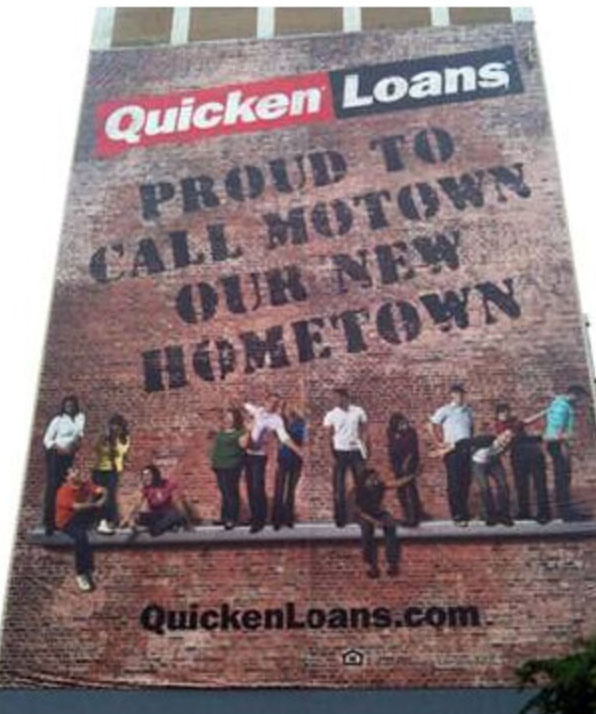 November 2010
Quicken Loans received its first J.D. Power award for client satisfaction in mortgage origination. In total, the company won 11 J.D. Power awards for client service in mortgage origination.
That same month, the company closed its one millionth loan. As of May 2022, Rocket Mortgage has originated more than 7 million mortgages.
June 2011
Quicken Loans launched "My QL Mobile," the first mobile app from a mortgage lender. The app provided real-time loan status updates, an interactive list of all the documents needed for the mortgage process and access to a home loan expert at the tap of a button. Currently, more than half of client use Rocket Mortgage on a mobile device. The Rocket Mortgage app has a rating of 4.9 out of 5 stars on the iOS app store.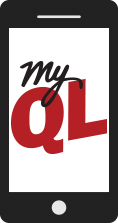 End of 2012
The company significantly entered the mortgage servicing business, announcing it had built an $80 billion – and growing – servicing portfolio as of the end of calendar year 2012. As of the third quarter of 2022, Rocket Mortgage had a servicing portfolio of $531 billion and 2.5 million clients.
March 2014
The company drew international attention for its

Billion Dollar Bracket

challenge, in partnership with Berkshire Hathaway and Yahoo Sports. The promotion offered a $1 billion grand prize for a perfect men's college basketball bracket, along with $2 million in prizes for 20 most accurate brackets and $1 million for funding of inner-city educational efforts.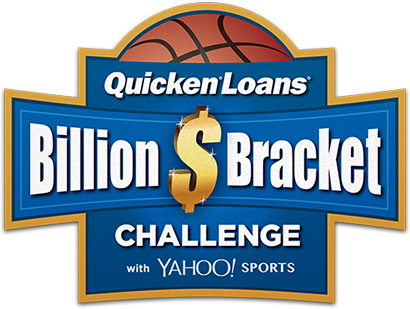 July 2014
J.D. Power ranked the company highest in customer satisfaction among home loan servicers for the first time in the first year it was eligible. In total, the company won eight J.D. Power awards for client service in mortgage servicing.
August 2015
The company partnered with the Detroit Land Bank on "Rehabbed and Ready" public-private campaign to renovate homes, increase occupancy and bring pricing stability to Detroit's neighborhoods. To date, nearly 100 homes have been renovated through the program. This program has helped stabilize property values in disadvantaged neighborhoods, allowing residents to access the equity in their home as well as setting new comps that allow prospective homebuyers to obtain mortgages.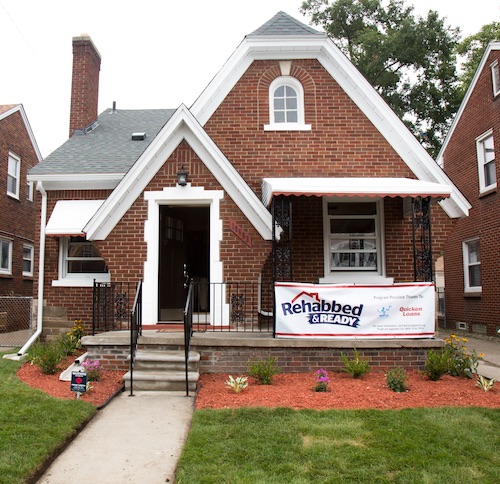 November 2015
Quicken Loans introduced Rocket Mortgage, the first end-to-end completely online mortgage experience. Rocket Mortgage users can go from application to approval and lock their rate online, without having to talk to a banker.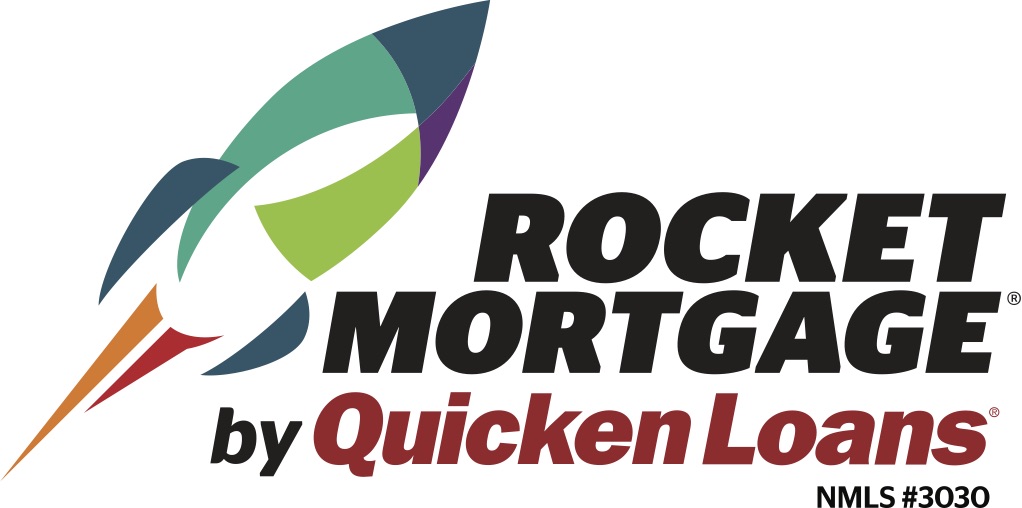 2016
Rocket Loans – a technology-driven personal loan platform that is part of Rocket Companies – first launched in 2016
February 2016
The company debuted its first Super Bowl commercial, which introduced Rocket Mortgage to the world. The company has had six commercials in five years. Most recently, in 2021 and 2022, Rocket won back-to-back number one rankings on USA Today's Ad Meter in 2021 and 2022.
October 2017
Quicken Loans partnered with the United Community Housing Coalition (UCHC) and eight community development organizations to launch an extensive education effort addressing the pervasive issue of tax foreclosure in Detroit. This door-to-door outreach attempted to reach all 60,000 residential properties behind on property taxes and connect residents at risk of tax foreclosure to resources.
December 2017
Quicken Loans introduced a new skill for the Amazon Alexa, allowing clients to make their mortgage payment with just the sound of their voice.
Q4 2017
The company became the nation's largest mortgage lender in the 4th quarter of 2017 – a title it still holds.
February 2018
Title Source Inc changed to Amrock. The new brand better reflects the company's wide range of technology driven services including title insurance, property valuations and closing services.
May 2018
Rocket Homes acquired ForSaleByOwner.com. Founded in 1999, the site is America's leading online marketplace exclusively focused on helping consumers who want to sell their own home.
October 2018
Quicken Loans and the Rock Family of Companies announced a new technology office in Windsor, Ontario. Today, the office – called Rocket Innovation Studio – enables Rocket Companies to recruit top talent from Windsor, Toronto, Waterloo and across Ontario to support the growing need for additional technology talent.
June 2019
Rocket Mortgage hosted the inaugural Rocket Mortgage Classic, the first-ever PGA Tour event held in Detroit and the most awarded PGA TOUR event of the season. In 2020, the tournament introduced the Changing the Course initiative to bridge the digital divide in the city and bring access to the internet and devices to all Detroiters. In the fall of 2021, the Rocket Mortgage Classic was extended through 2027.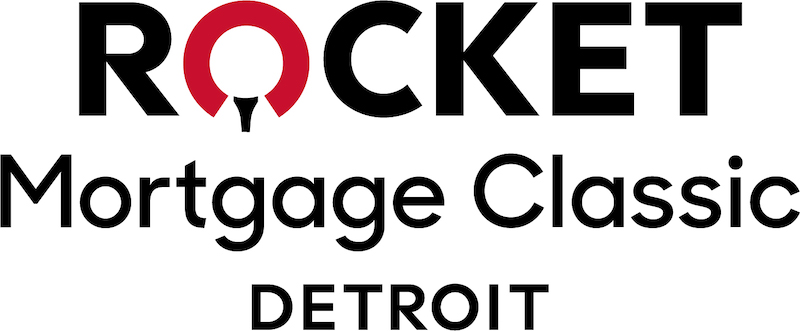 October 2019
Rocket Mortgage became the first lender to develop the capabilities to perform electronic mortgage closings (eClosings) in all 50 states.
Q4 2019
Rocket Mortgage became the Official Mortgage Sponsor of the NFL. As part of the sponsorship, the company introduced the Rocket Mortgage Super Bowl Squares Sweepstakes – the largest official game of Super Bowl squares in history. As of February 2022, 43 Americans have won a combined $4.9 million in the three years since the sweepstakes' launch.
March 2020
Digital Canadian mortgage broker Edison Financial (now known as Rocket Mortgage Canada) first started working with clients. The company is now licensed in every province and helping clients coast to coast.
August 2020
Rocket Companies, parent to Rocket Mortgage and other FinTech brands, celebrated its debut on the New York Stock Exchange as a publicly traded entity. Rocket Companies stock began trading under the ticker symbol RKT.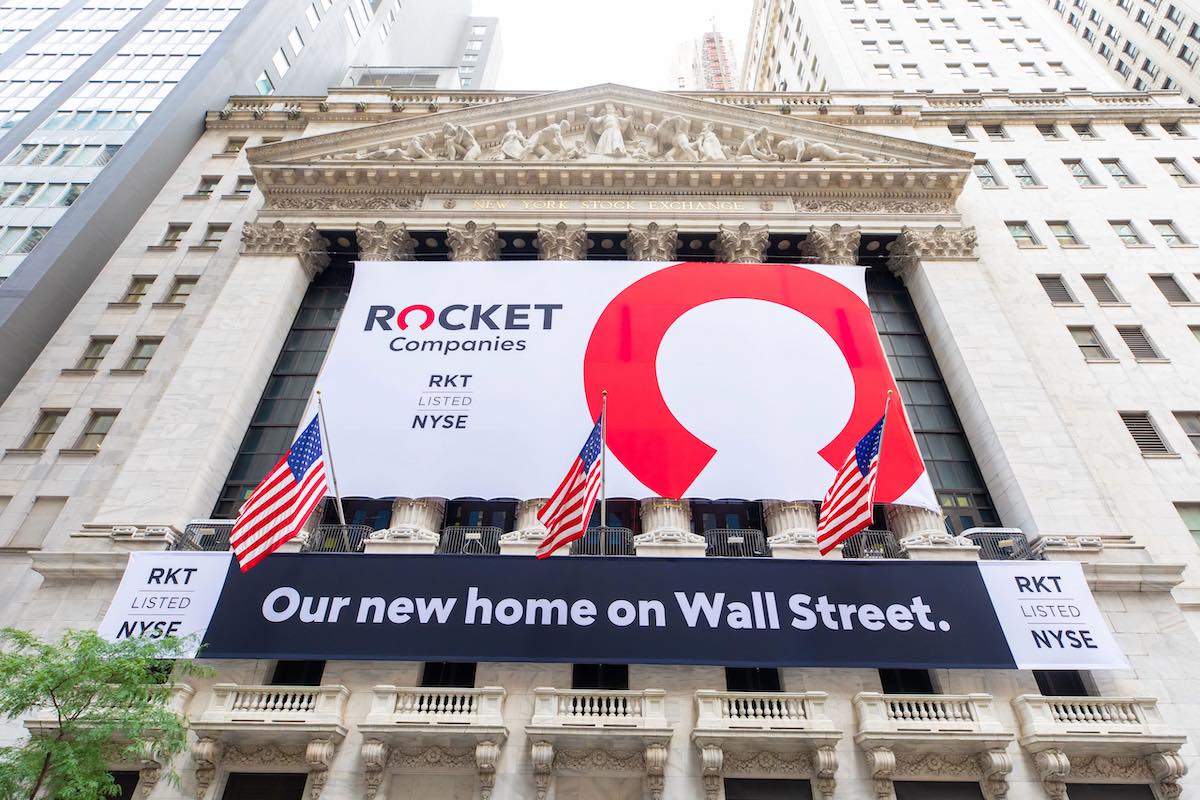 September 2020
The company announced Quicken Loans Mortgage Services (QLMS) changed to Rocket Pro TPO, bringing the most recognizable brand in mortgage origination to the mortgage broker community.
October 2020
Rocket Mortgage announced its integration with the Mint app by Intuit, creating a fast, simplified home loan experience. This was the first time the Rocket Mortgage experience was directly integrated into a personal finance platform.
July 2021
Quicken Loans officially changed its name to Rocket Mortgage as a nod to what the company does best – take a complicated process and make it simpler and faster using technology.
August 2021
Rocket Mortgage introduced the Detroit Home Loan+ program which offers $2,500 closing cost credit for those buying a primary residence in Detroit. The program also offers financial guidance and homeownership education to residents who are looking for additional assistance.
September 2021
Rocket completed its millionth eClosing, demonstrating its leadership in the space.
December 2021
Rocket Companies Acquired Truebill (now known as Rocket Money) adding rapidly expanding financial empowerment FinTech to the Rocket Platform.
July 2022
America's largest mortgage brand enters Canada with Edison Financial's name change to Rocket Mortgage Canada
In the same month, Truebill changed to Rocket Money – bringing the company closer to the other businesses on the Rocket Companies platform and provide the opportunity for Rocket Money to better help consumers at various touchpoints throughout their financial lives.
August 2022
Rocket Loans began a partnership with sister company Rocket Solar providing fast and easy financing to those who want to power their home with the sun.
September 2022
Amrock introduced proprietary technology to electronically close (eClose) mortgage transactions entirely from a mobile device. This new product represented the final step in Rocket Companies' creation of a seamless, end-to-end real estate experience clients can use to go from application to closing on the iPhone or Android phone they use every day.
November 2022
Rocket Companies unveiled Rocket Rewards, an innovative loyalty program empowering consumers to accrue points that can be redeemed toward various financial transactions across the Rocket Platform. With the launch of the first phase of the program, homebuyers can use reward points to save money on their closing costs when financing their home purchase through Rocket Mortgage.
March 2023
Rocket Companies introduced the Rocket Visa Signature Card, the first credit card created to make homebuying easier and more accessible. Homebuyers can earn 5% back on their everyday spending to use toward closing costs and down payments Homeowners with loans serviced by Rocket Mortgage can choose to use their points to receive 2% of their card spending toward their unpaid principal balance. The Rocket Visa Signature Card is integrated with Rocket Money.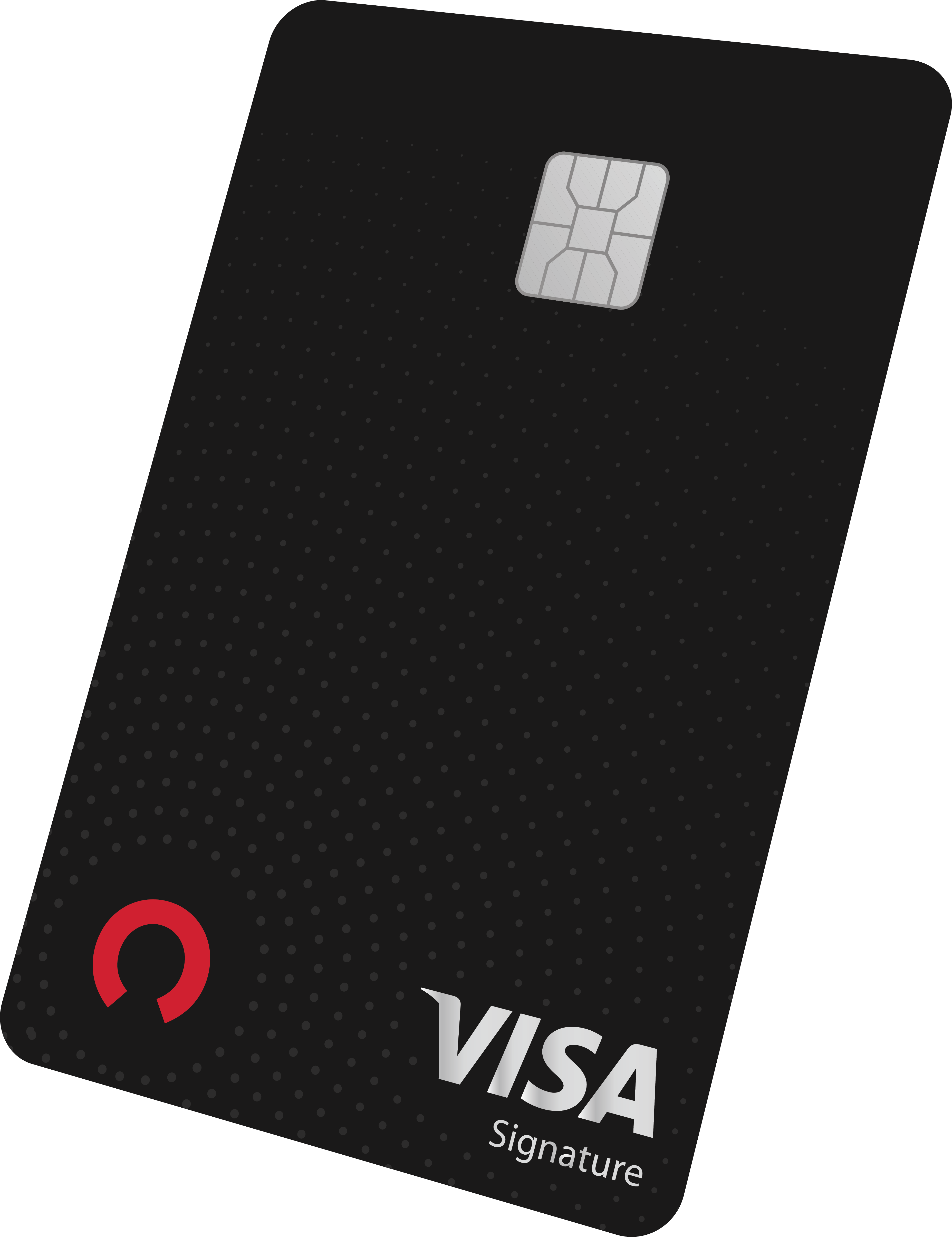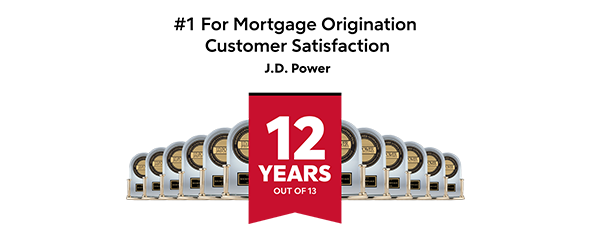 Sign up for our newsletter!
Stay up-to-date and get important Press Releases from Rocket Companies.
Powered by